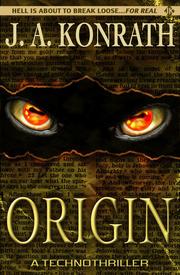 Author: J. A. Konrath (2009)
Pages:

Description
1906 – Something is discovered by workers digging the Panama Canal. Something dormant. Sinister. Very much alive.
2009 – Project Samhain. A secret underground government installation begun 103 years ago in New Mexico. The best minds in the world have been recruited to study the most amazing discovery in the history of mankind. But the century of peaceful research is about to end.
BECAUSE THE THING JUST WOKE UP.