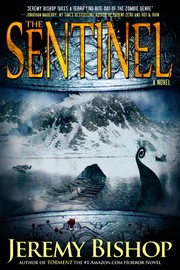 Author: Jeremy Bishop (2011)
Pages: 284

Description
In the frigid waters off the Arctic Ocean, north of Greenland, the anti-whaling ship, The Sentinel, and her crew face off against a harpoon ship in search of Humpback whales. When the two ships collide and a suspicious explosion sends both ships to the bottom, the crews take refuge on what they think is a peninsula attached to the mainland, but is actually an island, recently freed from a glacial ice bridge.
Seeking shelter, the two opposing crews scour the island for resources. Instead, they find Viking artifacts, the preserved remains of an ancient structure and a stone totem warning of horrible creatures buried in the island's caves. Facing violent, frigid storms, a hungry polar bear and the very real possibility that they are stranded without hope of rescue, Jane Harper leads the two crews, who must work together to defend themselves against an ancient evil upon which the modern stories of both zombies and vampires are based.
The original undead are awake and hungry. Beware the Draugar.